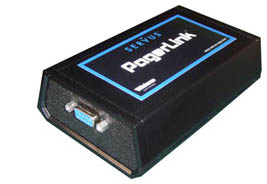 Servus PagerLink™ is a hardware device that allows a Servus Professional Edition tablet to communicate with a supported external hardware paging system. You simply plug one end of PagerLink™ into your pager system's controller with a serial cable and plug the other end into a tablet. Whenever you page a guest from the Servus wait list, the paging system is automatically activated and your guest is alerted. This removes a step from your host staff's workflow and improves both accuracy and efficiency.
PagerLink™ currently supports the following devices:

* requires Scope Xlite Controller
For detailed information about how PagerLink™ works, see this knowledge base article.
The hardware can support any paging system that can be controlled via a serial connection. If you have a system you'd like to see supported, contact us for more details.